Welcome to another edition of Chat with Nat! We are cruising on through the month of September. This is great news for those of us whose minds are fixated upon Halloween; this is not great news for those of you who have not capitalized on our 25¢ Toll-Free DIDs offer yet. Make note: you only have two weeks until it's going, going, GONE! Now, let's chat about that and other announcements in this week's Chat with Nat: Only Two Weeks Remain for Toll-Free!

In Case You Missed It


Do you remember a time without Caller ID? We older folks sure do. Oh the horrors of not knowing who was at the end of the line! But now it's a feature that is second nature to us and a must have! Read 3 Reasons We Love Caller ID (And You Should, Too!) in cased you missed it.
Continuing with our Toll-Free theme for the month, we are bringing something fun your way--a quiz! In a simple matter of answering eight questions, you'll be able to tell if your current provider is the right one. Go ahead and check out Quiz: Is Your Toll-Free Service Right For You? right now!


Only 2 Weeks Until...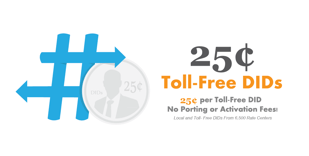 As we've been mentioning for the past few weeks, VoIP Innovations Is Now Offering 25¢ Toll-Free DIDs! This offer will only be available for two more weeks, so make sure to act now!

Hiring Alert!




We are looking for a Technical Service Representative to join us. Click here for all of the information!


Who ya gonna call?

When you need help, have a question, or would like to make changes to your services, chances are, you pick up the phone and give us a call. But who's at the other end of the line? Our helpful support and porting team members are! Let's go ahead and connect the names and faces for you...

Meet our Support Team!



Meet our Porting Team!




Wedding Bells


Our Technical Support Engineer Dustin Campbell got married this past Saturday at Niagara Falls. Congratulations Dustin and Heather!



Here We Go!



This past Monday kicked off the Pittsburgh Steelers' season so of course, being in Pittsburgh and all, we joined with our parent company ABG Capital and dressed in our black and yellow to root for our team! We're calling it now--we'll see you in the Super Bowl!

Thanks for taking time to visit with us this week. Please be sure to click the orange "SUBSCRIBE" button below so you don't miss any of next week's posts, videos, or whatever else we might send your way. Have a fantastic weekend and we'll see you right back here next Friday.